Live Hurricane Webcams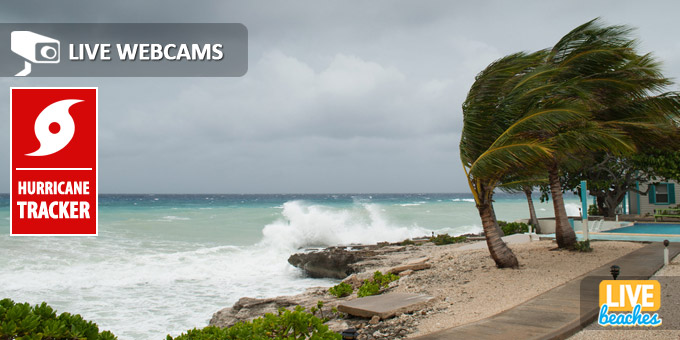 Track hurricanes and tropical storms with the most up-to-date live streaming webcams of beaches in the U.S.

Hurricane Season
Hurricane season runs from June 1 through November 30 in the Atlantic Ocean including the Gulf of Mexico and Caribbean Islands. The peak hurricane season is mid-August through end of September. An average hurricane season features 12 tropical storms of which six reach hurricane strength.
2018 Storm Names
The World Meteorological Organization is responsible for assigning names to tropical storms that form in the Atlantic Ocean and reach a sustained wind speed of 39 miles per hour. Any storm that reaches a sustained wind speed of 74 miles per hour qualifies as a "Hurricane".
Atlantic hurricane and tropical storm name lists repeat every six years, unless a named hurricane is so destructive that the World Meteorological Organization votes to retire that name from future lists. For example, in 2018, Sara replaced name "Sandy" from 2012.
BLUE: Subtropical Storm Status ORANGE: Tropical Storm Status RED: Hurricane Status
Subtropical Storm Alberto
Date: 5/25/2018 – 5/31/2018
Wind Speeds: less than 64 mph
U.S. States affected: Florida, Mississippi, Alabama, Louisiana
History & Storm Path: Tropical Storm Alberto History & Storm Path

Tropical Storm Beryl
Date: 7/5/2018 – 7/9/2018
Wind Speeds: Category 1 Hurricane Winds (maximum sustained winds of at least 74)
U.S. States affected: N/A
History & Storm Path: Tropical Storm Beryl History & Storm Path

Hurricane Chris
Date: 7/7/2018 – 7/14/2018
Wind Speeds: Category 2 Hurricane Winds (maximum sustained winds of at least 96)
U.S. States affected: South Carolina, North Carolina, Virginia, Maryland, Delaware, New Jersey
History & Storm Path: Tropical Storm Chris History & Storm Path

Tropical Storm Debby
Date: 8/7/2018 – 8/9/2018
Wind Speeds: less than 74 mph
U.S. States affected: N/A
History & Storm Path: Tropical Storm Debby History & Storm Path

Tropical Storm Ernesto
Date: 8/17/2018 – 8/20/2018
Wind Speeds: less than 74 mph
U.S. States affected: N/A
History & Storm Path: Tropical Storm Ernesto History & Storm Path

Tropical Storm Gordon
Date: 9/1/2018 – 9/7/2018
Wind Speeds: less than 74 mph
U.S. States affected: Florida, Mississippi, Alabama, Louisiana
History & Storm Path: Tropical Storm Gordon History & Storm Path

Hurricane Florence
Date: 9/4/2018 – 9/16/2018
Wind Speeds: Category 4 Hurricane Winds (maximum sustained winds of at least 130 mph)
U.S. States affected: South Carolina, North Carolina, Virginia, Maryland, Delaware
History & Storm Path: Hurricane Florence History & Storm Path

Hurricane Helene
Date: 9/7/2018 – 9/16/2018
Wind Speeds: Category 1 Hurricane Winds (maximum sustained winds of at least 74)
U.S. States affected:
History & Storm Path: Helene History & Storm Path

Hurricane Isaac
Date: 9/7/2018 – 9/15/2018
Wind Speeds: Category 1 Hurricane Winds (maximum sustained winds of at least 74)
U.S. States affected:
History & Storm Path: Isaac History & Storm Path

Sub-Tropical Storm Joyce
Date: 9/12/2018 – 9/18/2018
Wind Speeds: Sub-Tropical Storm
U.S. States affected:
History & Storm Path: Tropical Storm Joyce History & Storm Path

Sub-Tropical Storm Kirk
Date: 9/22/2018 – 9/28/2018
Wind Speeds: Sub-Tropical Storm
U.S. States affected:
History & Storm Path: Sub-Tropical Storm Kirk History & Storm Path

Tropical Storm Leslie
Date: 10/1/2018 –
Wind Speeds: less than 74 mph
U.S. States affected:
History & Storm Path: Tropical Storm Leslie History & Storm Path

Hurricane Michael
Date: 10/7/2018 –
Wind Speeds: Category 4 Hurricane Winds (maximum sustained winds of at least 130)
U.S. States affected: Florida, Mississippi, Alabama, Louisiana
History & Storm Path: Hurricane Michael History & Storm Path

Nadine
Oscar
Patty
Rafael
Sarah
Tony
Valerie
William

Southeast U.S. Region by AccuWeather