Hurricane Checklist
Planning and preparing can make a big difference for your safety during hurricane. Hurricanes bring high winds, heavy rainfall, storm surge, coastal flooding, inland flooding, and even tornados.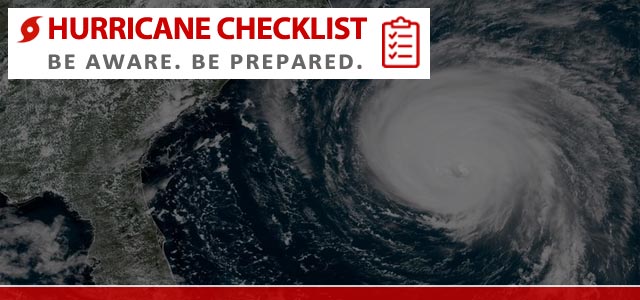 75 million people in the United States live in the path of hurricanes. The heavy winds and storm surge of a major hurricane can cause destroy homes, close roads, cause sustained power outages, and disrupt access to clean water. The effects from a major hurricane can extend from the coast to several hundred miles inland.
Don't wait until a hurricane watch is issued in your area, it may already be too late to prepare and take certain precautions.
Be better prepared for this hurricane season. The most important thing you can do as hurricane season approaches is to get your family and your home prepared for any emergency situation.
---
How to Prepare for a Hurricane
Use this hurricane checklist as a starting point, add items we've overlooked, and cross off items that do not apply to you.
Prepare & Stay Informed
Listen to weather alerts for up-to-date information from the National Weather Service
If your area is told to evacuate, evacuate
Fill your gas tank as early as possible
Food & Water
Drinking water: 1 gallon per person per day
Water for cooking and hygiene: 1 gallon per person per day
Non-perishable food for at least 7 days
Canned meats, soup
Packaged fruits and vegetables
Canned or boxed juice & drinks
Bread, crackers, cereal
Special food for babies and the elderly
Peanut butter and jelly
Granola bars, Trail mix
Emergency Essentials
Two week supply of prescription drugs
Two week supply of vitamins
Over the counter pain reliever
Toiletries and hygiene items
First Aid Kit
Sunscreen
Mosquito repellant
Plastic garbage bags
Antibacterial soap
Household Items
Cooler for ice and food storage
Flashlights with extra batteries
Car charger for cell phones
Grill with extra propane or charcoal
Waterproof matches
Paper plates, utensils, bowls and cups
Napkins, paper towels and toilet paper
Outdoor extension cords
Multi-purpose tool, scissors, knife
Bring in all outdoor furniture, garbage cans and anything else that is not tied down.
Personal Items
Collect and safeguard critical financial, medical, educational, and legal documents.
Secure any items that are irreplaceable or may provide comfort to your family, especially your children.
Extra cash
Pet safety tips
Make sure that cats and dogs have collars and identification tags
Put your cellphone number on your pet's tag
Find a safe place to stay
Never assume you will be allowed to bring your pet to an emergency shelter
Bring your pet with you if you evacuate
Food and water for each pet for at least five days
Staying Safe During a Storm
Follow local news for the latest updates.
For protection from high winds, stay away from windows and seek shelter on the lowest level in an interior room.
Move to higher ground if there is flooding or a flood warning.
Call 9-1-1 if you are in life threatening danger.
What to Do After Hurricane Passes
Follow local news for the latest updates.
Return home only when officials say it is safe.
Avoid roads that are flooded.
Report dangling power lines immediately to the power company.
Stay clear of buildings that has water around it.
Inspect your home for damage. Take pictures for insurance purposes.
Avoid drinking or preparing food with tap water until you are sure it's safe.
[/checklist-box]